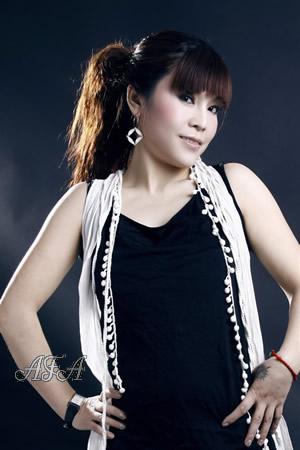 ID: 128961
Li
China
City:
Dongguan
Age:
39
Birth Date:
12/3/1973
Zodiac:
Sagittarius
,
Ox
Weight:
103lb, 47kg
Height:
5'2", 157cm
Eye Color:
Black
Hair Color:
Black
Marital Status:
Single
Children:
None
Religion:
None/Agnostic
Smoker:
No
Drinker:
No
Education:
university degree
Job Title:
self-employer
Years Worked:
8
Sports:
play tennis, Bicycling
Hobbies:
reading,traveling
English:
good
Languages:
Chinese (native)
Self Description: I am cheerful, kind and gentle, and his outspoken quick thinking. Is a professional modern women, enjoying petit bourgeois life, busy but full, harbor a sense of balance! I believe in fate, and perhaps we pass in a big crowd, perhaps unwittingly, we will meet, this is fate, I like the unusual, we met each other in casual conversation inner feelings, experiences Happy! Although age does not allow me to pursue my love, but I still think that marriage is the result of paragraph feelings, no feelings of marriage, not as a person too ~ ~
Comments: Humor, wisdom, calm, kind-hearted sincere, well-educated, mature, he must have a stable income and career based on love and family and responsible man, he should be trusted and would like to mix my lifetime, and if want to get married and you are a responsible and appreciate my people please contact me to.